House Painting in Bloomingdale, Illinois
Looking for a Trusted, Local Painter in Bloomingdale, Illinois? B.A. Painting, LLC's trusted Bloomingdale house painters have been painting Bloomingdale homes and commercial properties since 2007. When you're searching for a local painter in Bloomingdale to paint your home, call B.A. Painting, LLC. We have been a leading provider of house painting services in Bloomingdale, IL for over 15 years.
Painting Special
15% Off Any Service
expires 07/31/2022
---
Call for a FREE Quote
---
Bloomingdale House Painting Professionals at B.A. Painting, LLC Since 2007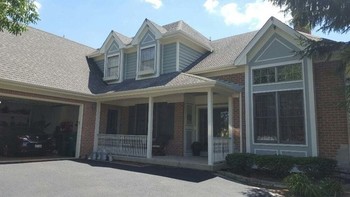 Does the curb appeal to your Bloomingdale home need improving? If you've noticed the paint on your home chipping or peeling or the color has faded, it's time to think about having your Bloomingdale house painted with a fresh new coat of paint. Having your Bloomingdale house painted not only boosts the curb appeal to your home but also increases the value of your biggest investment. Take pride in the exterior of your home in Bloomingdale by having it painted by B.A. Painting, LLC! Our team of skilled Bloomingdale painters take great care in every house they paint. From start to finish, you can trust that your home will be in reliable, capable hands with B.A. Painting, LLC.
Choose B.A. Painting, LLC for the Best House Painters in Bloomingdale, IL
From our extensive prep work to our final masterpiece, you will never look elsewhere for a trusted team of painting contractors to get the job done right the first time. Our innovative painting techniques and painting experience are what makes us stand apart from the competition. Our professional team of knowledgeable Bloomingdale house painters will be sure to exceed your expectations, one brushstroke at a time! Call (630) 360-3536 for a FREE house painting quote in Bloomingdale.
---
Call for FREE House Painting Quote
---
WHAT CUSTOMERS ARE SAYING:
5★★★★★ - "George and his crew painted the exterior of the house. They completed the job on time and paying attention to detail. They even replaced some rotten wood. He carefully listens to what you want and makes sure that you are happy with the job. The house looks great. They did a great job !"

Anna

2019-04-29

5★★★★★ - "Very good. Work began and concluded on time as promised."

Anonymous in Saint Charles, IL

2021-11-29

5★★★★★ - "Outstanding job! Work began and completed when promised. Site left very clean."

Anonymous in Saint Charles, IL

2021-11-27

5★★★★★ - "I recently had one of Georgia's crewmen come out and do some plasterwork on my ceiling. This is the third time I've had them out to do painting work and as always the worker was polite, hard-working, and knew exactly what he was doing. The work I had done was for repairs to the ceiling that had some water damage from years back. He did an excellent job and was very conscientious not to make a mess in the house and cleaned up everything afterward. His prices are very fair and as always George came out inspected the work and I had him bid on painting the ceiling also which I will go through with."

David King, Interior Painting in Saint Charles, IL

2021-01-30

5★★★★★ - "We called Jorge and asked him for a quote. He was upfront and honest and told us when he could start. He said at least 3 weeks. He came and gave us a great quote but we decided to go w/ another painter as we were unable to wait. Jorge was very understanding and kind. Given our experience with him, I would highly recommend him as his estimate was very good and extremely fair. We will consider him in the future if needed. We wish him the very best!"

Ann in Aurora, IL

2020-12-29

5★★★★★ - "The B.A. Painting team did a great job on our home! Both the painting and drywall work was done professionally and done very well. George was great to work with and the job was done at a fair price. We are so thankful their schedule allowed them to do the work before our new flooring was installed!"

Ron A.

2019-10-31

5★★★★★ - "George and his crew did a great job on my cabinets and stairway. They were a pleasure to work with and I am thrilled with the beautiful work they did!!"

Anonymous, Cabinet Painting in Aurora, IL

2019-07-11

5★★★★★ - "We recently purchased a home in need of some TLC. We needed to have our kitchen cabinets as well the main level of the house painted. B.A. Painting was recommended to us from a friend who had their kitchen cabinets painted by them. We gave the job to them. They did a fabulous job. Reasonably priced. Very easy to work with. The interior looks decades younger. We are really enjoying our home. I highly recommend them."

Steven Salley, Cabinet Painting in Lafox, IL

2019-07-11

5★★★★★ - "Update: That old adage that you never get a second chance to make a good first impression has been proven wrong. George more than made up for the previous miscues. He was extremely apologetic and understandably things are pretty hectic around the holidays. I highly recommend as he did a wonderful job painting our living room. So much so that I definitely plan to use him for future projects. He was very responsive and was very patient in providing recommendations. I was even more impressed with the quick turnaround time. Definitely 2 thumbs up!
Previous review: Unfortunately, this review is not about the work that was completed only because we never got to that point. I sent a request for a free quote on behalf of my elderly parents based on the positive reviews. My mother set up time for Saturday and no one showed or called. My mom followed up only to be told he was not going to make it. Pretty disappointing as we cut our day short to rush back for the appointment. However, we were understanding and rescheduled for Monday. Again, he was a no-call no-show. My mom followed up again only to be told again that he is not going to make it. This time there was not an explanation given nor an offer to reschedule. Not sure how a business can thrive with this lack of professionalism and respect of potential customers' time."

Monica Johnson, Interior Painting in Geneva, IL

2019-07-11

5★★★★★ - "The B and A Painting company painted my kitchen and family room. I was very nervous about hiring a painting company. However, I very pleased with George the owner and his crew. I was provided with a fair estimate,and a quick start date. George and his crew were able to accommodate me on such a short notice. They were very professional and punctual. They did an excellent job in covering my furniture and floors. They did an awesome job painting my high vaulted ceilings in my family room!!!!! I will definitely be using this company again for my future painting needs. Great workmanship!!!
I was very pleased with the overall painting job they did. They were very professional and punctual. I will definitely use this company again!!"

Anonymous, Interior Painting in Aurora, IL

2019-07-11

5★★★★★ - "George refinished our hardwood floors and painted our kitchen cabinets. Looks like we have a new kitchen! He was recommended from 2 neighbors, and we would highly recommend him too. And he's honest and dependable."

Jeanne C, Cabinet Painting in Naperville, IL

2019-06-28

5★★★★★ - "Very professional, all of his workers were polite and carful, George explain the process and let's say it came out beautiful. Going to us this company for more projects.."

Freddy B, Interior Painting in Montgomery, IL

2019-06-28

5★★★★★ - "Jorge was recommended to us by a close friend when we inquired about a recent painting project they had just finished on their house. Jorge's team did a great job in painting our basement. They also did a great job in repairing some subpar drywall work that was done by the original contractors. While in the process of painting the walls, we had casually asked Jorge if his team also did trim work. We had been contemplating doing the trim work ourselves but Jorge's price quote was extremely fair and competitive, and the work was done very well. Jorge was easy to work with and accommodating of our schedule. We will be definitely be using Jorge and his team for future projects."

Morgan G, Painting in Barrington, IL

2019-05-31

5★★★★★ - "I have read mixed reviews about this company, but I am very happy with them. I had 30-year-old exterior cedar I was thinking about replacing. George and his company truly restored the wood so it will last another 10 years and looks great. The price was also great. George was able to match the color of another house that we liked as well."

Brian E., Exterior Painting in Plainfield, IL

2019-02-21

5★★★★★ - "I would highly recommend BA for any of your painting needs. Jorge the owner is easy to work with, very responsive and definitely wants to make sure you are completely satisfied. He was by far the most reasonable quote around for my entire house. Paid exactly what our original quote stated. The guys that work for him are just as friendly and hard working. I will for sure use him again in the future."

Linda F., Painting in Geneva, IL

2019-02-21

5★★★★★ - "We had two estimates - one from this company and one from another. The other was way overpriced and said they really don't like doing cabinets, their specialty is furniture painting. Ohhhhh k. George at this company came out and his estimate was very thorough, reasonably priced and they could start in a fair amount of time. I am so glad we chose them. Our kitchen looks just like the before and after photos all over Pinterest! It's so fresh, seems larger, brighter, just beautiful. They were extremely courteous and professional. We even had a furniture delivery I forgot about while I ran some errands and they would not let the furniture guys into the house to drop it off. That's amazing. Their work is very detailed and my husband and I are just in awe. I posted a before/after pic on Facebook and so many people want to know who we used. You know I will be sharing that info! Thanks B.A. for beautiful cabinets and a beautiful experience! :)"

Christy O., Cabinet Painting in Naperville, IL

2019-01-10

5★★★★★ - "I hired George to paint my cabinets in my kitchen. He was very pleasant and explained what supplies he would be using and how long it would take. The job was done beautifully and looked like brand new cabinets but cost 1/4 of what new cabinets would cost! I get compliments all the time. I would highly recommend this company to do any painting in your home!"

Kimberly M., Cabinet Painting in Downers Grove, IL

2019-01-10

5★★★★★ - "Jorge and his team were excellent. Jorge came out to survey the work very quickly and I had the proposal the next day. His price was very competitive. More importantly, I trusted his professional advice more than the other contractors that bid on the job. We had textured paint & wall paper that needed to be removed and also had our stair treads, stringers, and handrails painted. His team was very friendly & professional and made a week long invasive project as stress-free as possible for my family. It feels like a brand new home! I would definitely refer my friends and associates to Jorge and his team!"

Daniel Brunner, Painting in Aurora, IL

2019-01-10

5★★★★★ - "They painted my kitchen cabinets white and they look beautiful! Everyone was very nice to work with and very neat!"

Jami in Batavia, IL

2018-10-04

5★★★★★ - "This is the second time I had George Barba paint my house. This time he also painted my deck. He and his crew are friendly and professional. They pay close attention to detail, which is what I wanted from the work. George found, during the painting some rotted boards and he replaced them. He does not take shortcuts. I highly recommend his work. In fact, I am planning an indoor project and I hope that he is available to do the job. Thanks, George for a great job."

G and K C

2018-07-10

5★★★★★ - "Great work! Professional, and cleaned up very well."

Anonymous in Geneva, IL

5★★★★★ - "We had our kitchen cabinets re-finished and they did an outstanding job. Provided us a variety of options on colors and did a very thorough job in completing the project. I would recommend them."

George in Aurora, IL

5★★★★★ - "I had my kitchen cabinets repainted after the first company I hired painted them the wrong color and wasn't willing to work with me. They look amazing now.
It is always awesome to find someone who takes their business very seriously like George does. I called several companies to bid the job and not only did George have the best price but he was also the most knowledgeable and professional. He came out after hours and brought paint samples and painted large swatches on a spare cabinet door. George is a fantastic resource for painting tips/tricks. George's team painted my kitchen cabinets, kitchen walls, doors and trim. George is an incredibly kind man, and I felt very comfortable with him and his crew in my home while I was at work. His crew showed up early, got diligently to work, and completed the job before the estimated completion time. They cleaned up extremely well even between days. George was very attentive to make sure that I was satisfied with the work before signing off. I couldn't have asked for a better experience and would highly recommend B.A. Painting to anyone needing their services."

Julie Piel in Aurora, IL

5★★★★★ - "Jorge Barba and his guys are very detailed and clean. He knows how to answer questions and help us to get the right colors. We had a very hard time picking out colors and he showed us so many samples after hours. I am very happy."

nattaly in Oakbrook Terrace, IL

Nikki, Exterior Painting in Saint Charles, IL

Ashli Campagna in Naperville, IL

5★★★★★ - "These guys are the best around..I had my kitchen cabinets refinished and they look amazing. Jorge and his crew were on time and very generous, kind and courteous everyday they were at my home. True professionals... And not to mention the price, Jorge will work with you and your budget if you need him too. Overall, I would use these guys again without a doubt. Highly recommended !!"

Deryl Devis, Cabinet Refinishing

2016-07-28

5 ★★★★★ - "B.A. Painting recently painted our kitchen cabinets. Jorge was extremely knowledgeable and took the time to explain the different types of paint and processes for painting cabinets. His team was neat, courteous and professional. Their work was high quality. Jorge and his team were patient and dedicated to addressing any concerns we had. In addition, his prices were very fair! We are super happy with our new kitchen!"

Heather F. in Geneva, IL

★★★★★ - "We hired B.A. Painting to paint our kitchen cabinets. We are very pleased with the result. The painters work hard and are very neat. We would hire this company again."

Rick & Margie Mingione in Naperville, IL

5★★★★★ - "We found B.A. Painting in recent renovations to our church to be very professional, knowledgeable, reliable, extremely neat and very helpful in accommodating our schedule." ~Georgia"

Anonymous in Darien, IL

2015-02-24

5★★★★★ - "BA Painting made it easy to plan with an accurate estimate and timely work. They did a great job and were in and out of the condo in just a couple of days!"

Tatiana

2014-05-28

5★★★★★ - "We are very happy with the job you did in painting our family room, bedroom & bath, and ceiling in the Living room/kitchen. Everything looks wonderful! I think you have the best crew working for you! They worked hard all day and cleaned up so we could live in the house at the end of each day! Very talented and nice people to work with! Please call us some time in August to give us an estimate for further work in the fall."

Diane and Jim Sullivan

2014-05-16
---
Call for FREE House Painting Quote
---